We Need You
Our Scout Group is always on the search for new Volunteers
Please take a look at the Beaver, Cub + Scouts Page to see about each Section program that is based on Progression and Leadership within a massive varied program. 
The more Adult support the more we can offer to our Young Members. Adults also get the chance to join in and experience many Activities themselves.
The Amount of Volunteers each Section has, does affect and can restrict what they can do and offer our Young Members.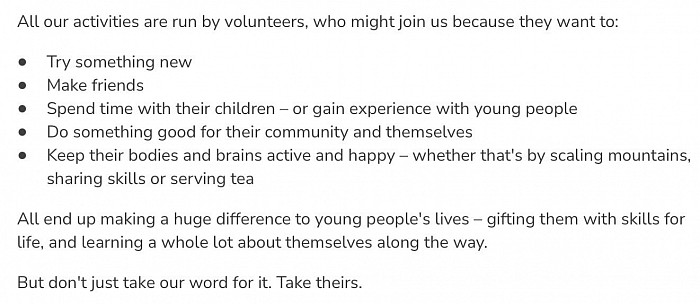 Questions + Answers
Do I need to Complete a DBS ?
Currently If any adult that is helping "more than once a month" at the regular weekly meetings or if helping out for example on a Nights Away Experience they will need to Complete a Scouting DBS.
Any Adult helping out "less than once a Month" at the regular weekly meetings cannot be left alone unsupervised with a Group of under 18s 
What if I don't have that much spare time? 



Volunteering with us is easy, fun and flexible, how much time you give is completely up to you. Whether you help out every Week, once a fortnight, month or term or just at special events or nights away, there is bound to be a role you can play, and no matter how you get involved they will be learning and support.
If I show an interest will I be chucked in the deep end?  
No! You'll be working with an established team of friendly volunteers and there will be loads of support.
I See you have enough help?
We never refuse any offers of help. (Please do Speak to the relevant Section Leader(s)) 

With some of our Sections it might seem that they go though a stage when they have enough help. This help might only be flexible help, Adults on a Rota and those that are Under 18 in the shape of Young Leaders or those Completing the DofE Award Scheme.

A large percentage of help is parental support which comes and goes depending on their child, so the need for continuous adult support is very Important for every Section in our Scout Group

For your child and their Section to get the best from their Scouting Experience, We need to make sure that as a Section that we have enough Adults (Over 18 Years Old) to cover the Adult to Child ratios whilst away from our main meeting place.
More information about Ratios are shown on each Sections page.
My child is in Scouting – is there anything I could do to help? 
The short answer is yes. Many of our helpers and leaders are Parents and carers of our youth members because they've seen first hand how Scouting benefits young people and want to give something back. It's also a chance to spend more time with your children and learn new skills. Speak to your child's leader to discuss how you might become involved.
What will I get out of volunteering? 
As well as gaining externally recognised skills and having a brilliant time, Scouting also offers the chance to build on personal skills, like teamwork, confidence and leadership. A study found that over 90% of our volunteers believe that the skills and experiences they have gained through Scouting have been of relevance to their working or personal lives. 
Are there any age restrictions on helping out?

 
As long as you're over 18, you can help out as an adult volunteer in Scouting. There is no upper age limit for adult volunteers. If you are aged 14 to 17 Years, there is the option of becoming a Young Leader.
I Don't really have the skills you need? 
You don't have to be an adventurer like Bear Grylls to get involved with Scouting. 
Do you have first aid knowledge? Are you good with numbers? Handy in the kitchen? Or are you good at DIY? We all have useful skills and you can volunteer and help in many ways. 
Will I have to wear a uniform? 
We are a uniformed organisation with Warranted Adults Leaders who wear Uniform. Our volunteers including our Warranted Adult Leaders, Section Assistants and even Helpers might choose to wear either a polo shirt or hoodie to show they are part of the team and importantly that all Adults can identifiable as an Adult helping in Scouting.
Will I have to complete loads of Learning?

 
The Scout Association has an Learning scheme available to all volunteers. The Learning requirements for the majority of roles in Scouting consists of basic modules that can be completed online at home for the Getting Started and Mandatory Learning. Face to Face learning with other volunteers, normally at the Leicestershire HQ. Learning is changing in 2023 to make it better and more flexible for everyone.
The 1.Safeguarding, 2.Safety and 3.GDPR Mandatory Learning and the Basic Training, Modules 1 + 3 ASAP that are required for appointments. All 5 can be completed online and all can take one evening, Morning, Afternoon or a few days to complete.
A link to each online course can be found on the Adults / Parents Page.